Latest news from the Beatty Research Group.
Julia Doh and coworkers prepared detailed methods papers for publication in Bio-protocol on using the VIPER tag.  We were interested in working with Bio-protocol and Editor Dr. Zhao Chen because this is an open-access journal.  We support Bio-protocol's mission, which is to "make life science research more efficient and reproducible by curating and hosting high quality, free access protocols".  You can find our methods papers in the current issue (Bio-protocol November 2019).
Julia and Kimberly volunteered this month with STEM Like a Girl.  This great organization encourages parents and girls to work together to learn more about STEM.  We helped with the "Fizzy Bath Bomb" activity, which teaches girls about acid-base chemistry and volatile compounds that smell great.  The girls also designed "helmets" to keep eggs from breaking and neighborhoods that would keep pollution from rivers.  Thank you to Sarah Foster for leading this great organization!
Dr. Beatty wrote a "First Reactions" essay for ACS Central Science, which is now available online: https://pubs.acs.org/doi/10.1021/acscentsci.9b00842.  Her essay was titled: "Coloring Cell Complexity: The Case for an Expansive Fluorophore Palette".  It introduces exciting new work from Luke Lavis's group at Janelia Research Campus: "Rational Design of Fluorogenic and Spontaneously Blinking Labels for Super-Resolution Imaging".  This paper can be found here: https://pubs.acs.org/doi/10.1021/acscentsci.9b00676.  Visit the ACS Central Science website for these publications.
Julia attended the M&M meeting in August 2019.  She enjoyed the meeting very much, and had this to say: 
"My talk abstract was awarded the Microscopy and Microanalysis Student Scholar Award and I presented at the Cutting Edge Microscopy in the Pacific Northwest session. I was additionally invited to deliver my talk at the PMCx60 which is a pre-conference networking event for students, postdocs and young investigators.
The meeting was focused on using electron microscopy as a research and analysis tool. I attended talks primarily focused on biological study using EM. There were a great number of correlative light and electron microscopy and 3D-EM talks which made me aware of what an expanding field it is. The sessions were very thoughtfully chaired, frequently by combining all fronts of a project (microscopy development, biological research, computation) towards goals such as creating a 3D EM map of a mouse brain or for studying the dynamics of the cell membrane for example. Overall I enjoyed the conference and I'm looking forward to my next chance to attend in the future."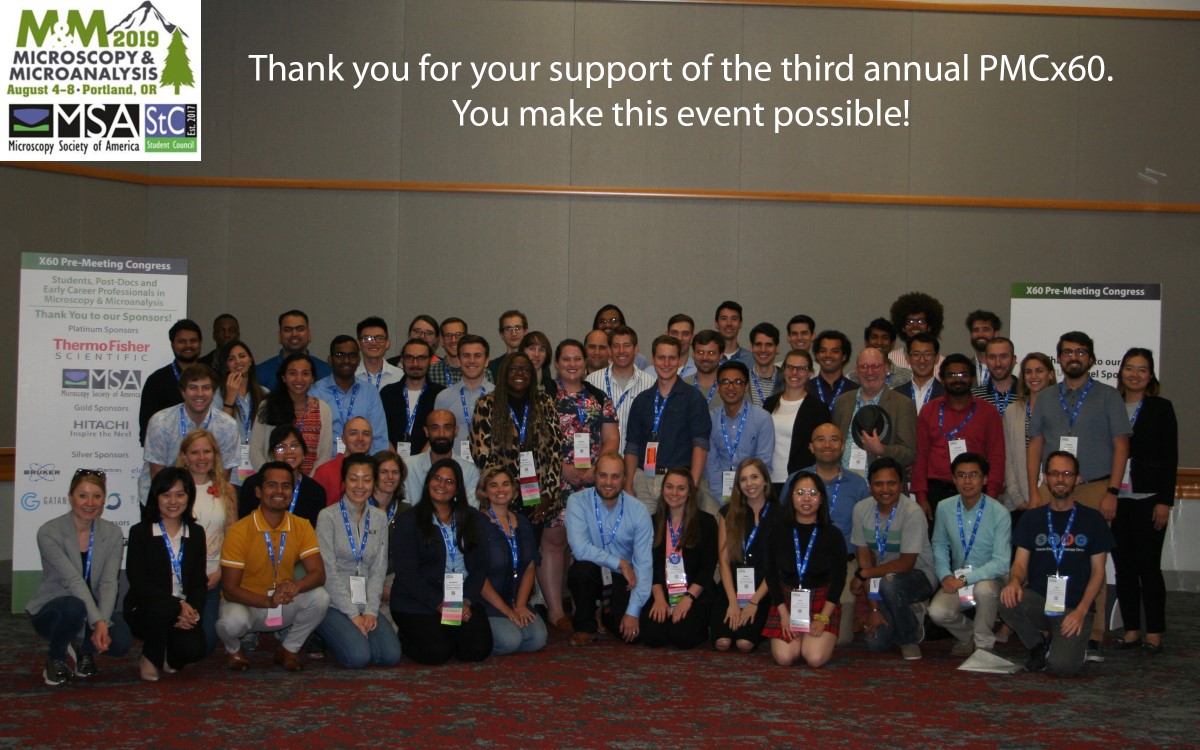 Image courtesy of M&M.
Onward, the magazine of the OHSU Foundation, profiled nine scientists in the OHSU Knight Cancer Institute: Amanda Bruegl, M.D., Shannon McWeeney, Ph.D., Missy Wong, Ph.D., Amanda Lund, Ph.D., Lara Davis, M.D., Mary Stenzel-Poore, Ph.D., Kimberly Beatty, Ph.D., Anupriya Agarwal, Ph.D., and Beverly Emerson, Ph.D.  To read about these scientists, please visit: https://www.onwardohsu.org/blog/detail/forces-change
From Onward:
"Kids think that research is a solitary pursuit done by an old guy in a stinky basement lab, but it isn't. It's fun and exciting and something we get to do as a community."   --Kimberly Beatty
On Monday June 24, chemical biologists from OHSU and UofO gathered to discuss advances in chemical biology and opportunities for collaboration.  The event was organized by Prof. Mike Pluth and was funded by the OHSU-UofO seed funding awarded to Beatty and Pluth.  The event included an overview and tour of shared resources at UofO and some career development activities.  
I am so grateful to the Oregonians who support research at OHSU.  This week I had the chance to meet some of the Hillcrest Committee, who helped fund our investigation into drug resistance associated with HER2 positive breast cancer. This project is an ongoing collaboration with the Korkola group.  In addition to meeting some of the donors (really inspiring women!) I had a chance to catch up with some of my colleagues and hear about the ground-breaking work that they are doing with support of these donors.
The lab is happy to welcome Dr. Miguel Macias-Contreras!  Miguel is joining Team VIP.  He completed his PhD with Dr. Lei Zhu at Florida State University.  His thesis research involved developing new chemical tools for sensing cellular zinc and new substrates for the SNAP-tag.  Before that, he earned his masters at the University of Guanajuato and his B.S. from Autonomous University of Coahuila.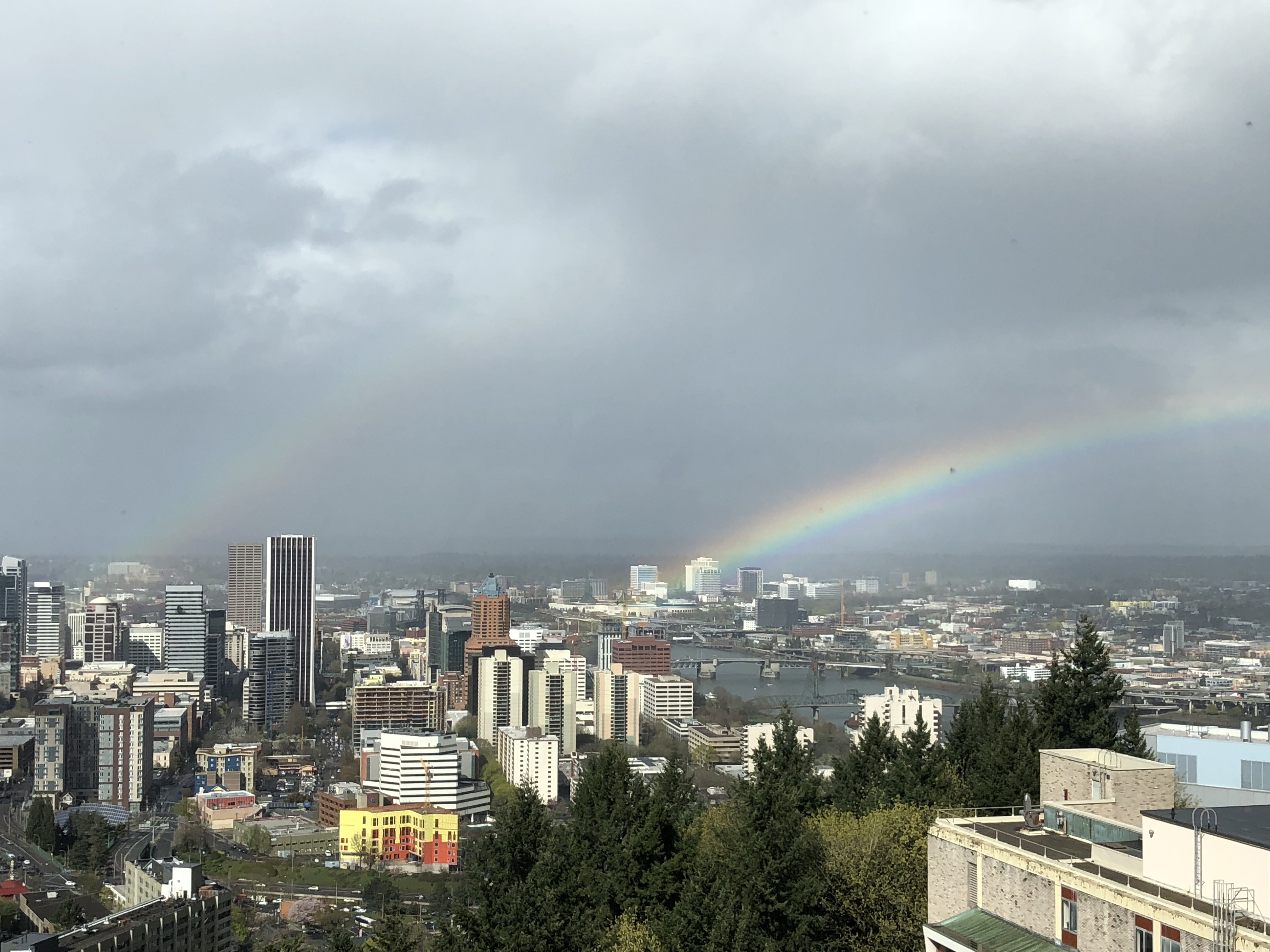 Faint double rainbow viewed from the Department of Physiology and Pharmacology break room-- photo courtesy of Emma Farley.
Julia Doh will be attending the 2019 Microscopy and Microanalysis symposium Aug. 4-8, 2019.  She was awarded a M&M Student Scholar Award, which will cover her registration fee and related expenses.  Julia was selected from a competitive pool of student applicants, and we are grateful to the organizers for picking her.  Congrats Julia!
Our recent VIPER paper (PNAS, 2018) was selected by OHSU's School of Medicine as the paper of the month!  Click here to read about it.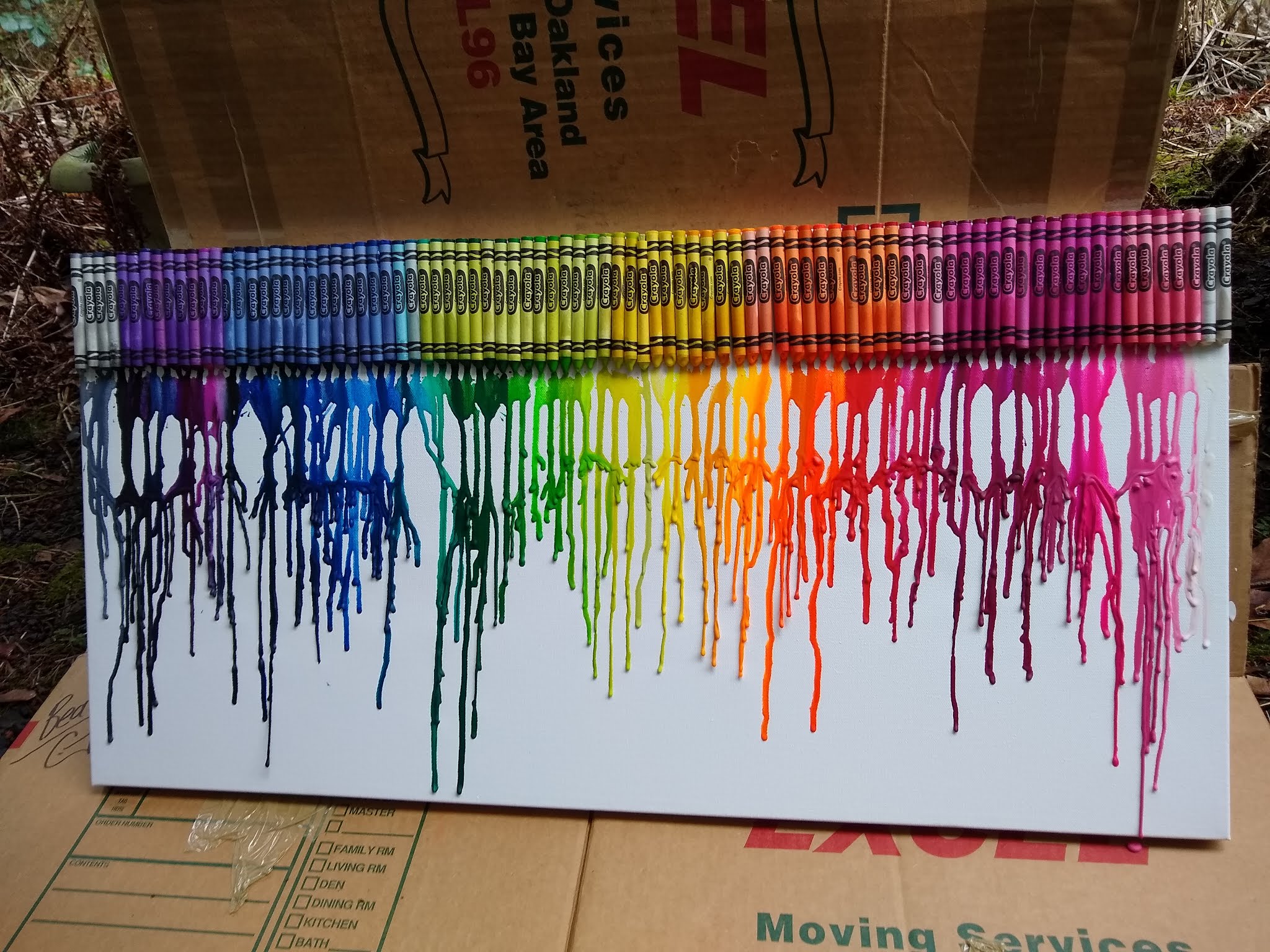 There is a lot of great color chemistry happening in the Beatty lab and in the next two modules (Strongin and Gibbs).  Inspired by that, Dr. Beatty produced some melted crayon art.  If you are in the RLSB in Portland, OR, stop by to see it!
The Beatty lab homepage now features an updated banner, which is designed to highlight our work at the interface of chemistry and biology.  The images were collected by graduate students in the group (Katie and Julia), and highlight our research on esterases in M. tuberculosis, development of genetically-encoded tags (e.g., VIPER), and imaging the iron uptake machinery.