Latest news from the Beatty Research Group.
I am so grateful to the Oregonians who support research at OHSU.  This week I had the chance to meet some of the Hillcrest Committee, who helped fund our investigation into drug resistance associated with HER2 positive breast cancer. This project is an ongoing collaboration with the Korkola group.  In addition to meeting some of the donors (really inspiring women!) I had a chance to catch up with some of my colleagues and hear about the ground-breaking work that they are doing with support of these donors.
The lab is happy to welcome Dr. Miguel Macias-Contreras!  Miguel is joining Team VIP.  He completed his PhD with Dr. Lei Zhu at Florida State University.  His thesis research involved developing new chemical tools for sensing cellular zinc and new substrates for the SNAP-tag.  Before that, he earned his masters at the University of Guanajuato and his B.S. from Autonomous University of Coahuila.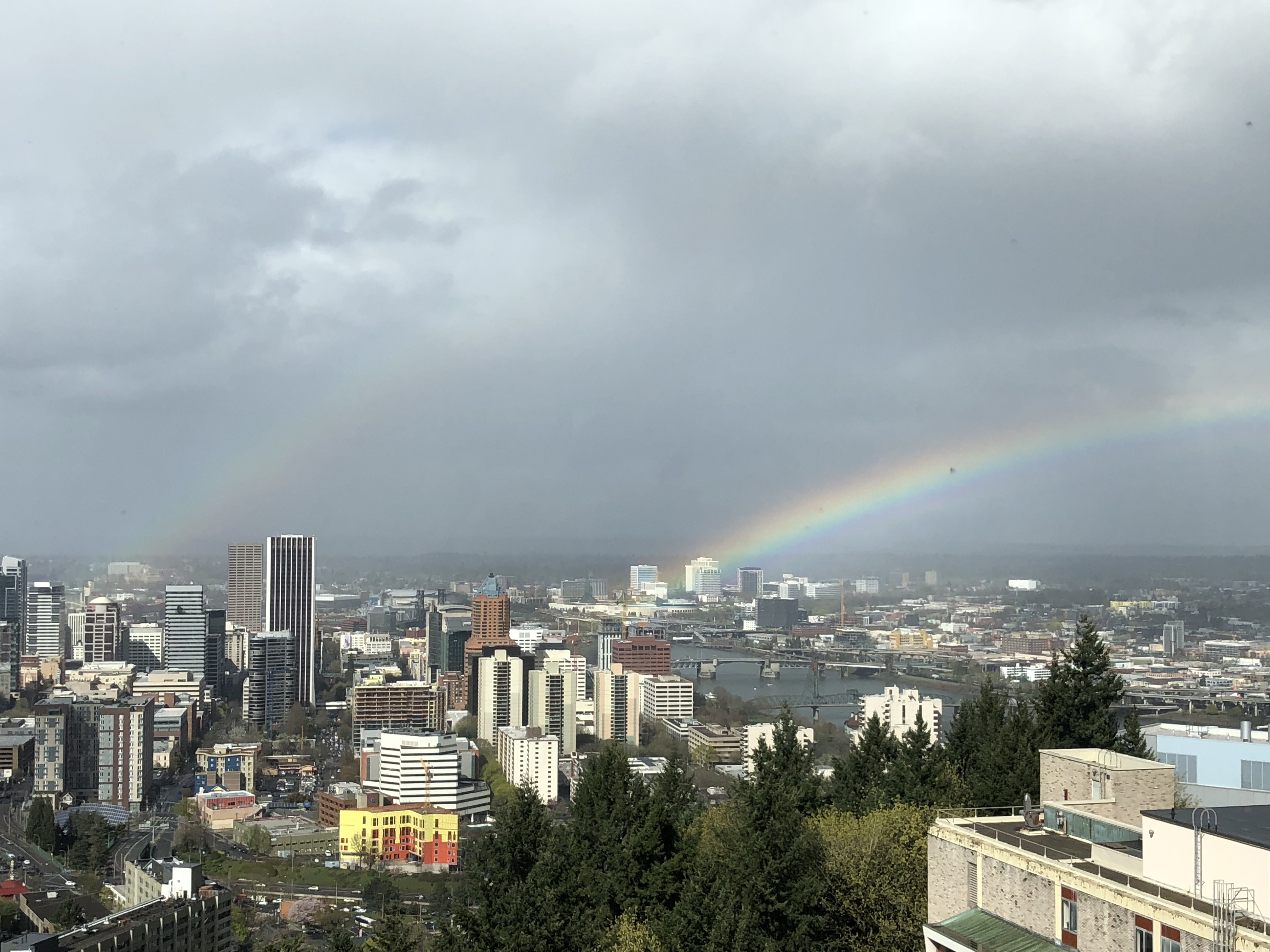 Faint double rainbow viewed from the Department of Physiology and Pharmacology break room-- photo courtesy of Emma Farley.
Julia Doh will be attending the 2019 Microscopy and Microanalysis symposium Aug. 4-8, 2019.  She was awarded a M&M Student Scholar Award, which will cover her registration fee and related expenses.  Julia was selected from a competitive pool of student applicants, and we are grateful to the organizers for picking her.  Congrats Julia!
Our recent VIPER paper (PNAS, 2018) was selected by OHSU's School of Medicine as the paper of the month!  Click here to read about it.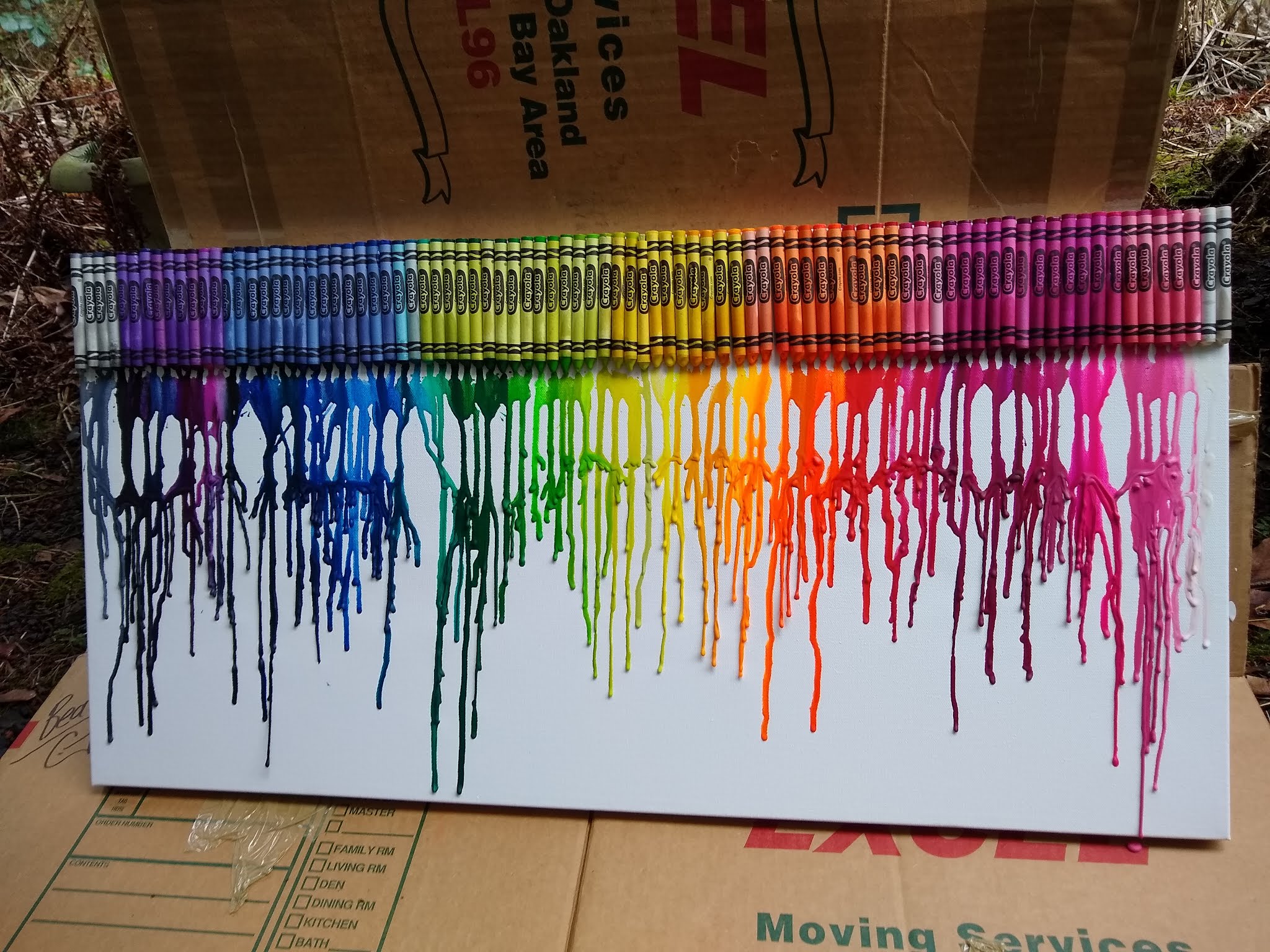 There is a lot of great color chemistry happening in the Beatty lab and in the next two modules (Strongin and Gibbs).  Inspired by that, Dr. Beatty produced some melted crayon art.  If you are in the RLSB in Portland, OR, stop by to see it!
The Beatty lab homepage now features an updated banner, which is designed to highlight our work at the interface of chemistry and biology.  The images were collected by graduate students in the group (Katie and Julia), and highlight our research on esterases in M. tuberculosis, development of genetically-encoded tags (e.g., VIPER), and imaging the iron uptake machinery.
The Beatty lab is grateful to NIGMS for funding an equipment grant supporting the purchase of a multi-modal Amersham Typhoon.  This instrument will be used to image VIP tags and for assessing interactions between our fluorescent probe peptides and their targets.
The Beatty lab celebrated the new PNAS publication with a celebration on Dec. 14.  We included lab alums Sam Levine, Jon White, and Katie Tallman.  Dr. Beatty made a pavlova with raspberries and lemon curd.  It was a lot of fun to get the group together and to end the year on a high note.  We took a picture after Savannah, Caroline, Dan, and Claudia left:
We recently published new work in PNAS, "VIPER is a genetically encoded peptide tag for fluorescence and electron microscopy."  This project describes our latest peptide tag, VIPER, which can be used to tag and track cellular proteins across microscopy platforms.  Great job Team VIP!
The Beatty lab is happy to welcome Savannah Tobin to Team VIP.  Savannah is a recent UC Davis graduate, where she completed her B.S. in the Biological Sciences.  Savannah was previously a member of the Albeck Lab (UC Davis), where she worked closely with Alexander Davies on cancer signaling.  She has also worked on projects in veterinary genetics, examining feline coat color patterns and the Fed d1 allergen.
Kimberly Beatty prepared a last-minute halloween costume, celebrating the VIP tag technology.  Finley let her borrow the reporter chemistry for the day.
Kimberly Beatty and Michael Pluth (UO) co-organized the first-ever Oregon Translational Chemical Biology (OCTB) symposium at OHSU on October 30.  Over 150 people attended this event, which was open to OHSU and UO.  The event was designed to bring together chemical tool "makers" and tool "users".  A day of great talks was followed by a poster session and reception.  Speakers included Darren Johnson, Carsten Schultz, Brian Druker, Gordon Mills, Summer Gibbs, Francis Valiyaveetil, and others.