Latest news from the Beatty Research Group.
The Beatty lab is happy to welcome Savannah Tobin to Team VIP.  Savannah is a recent UC Davis graduate, where she completed her B.S. in the Biological Sciences.  Savannah was previously a member of the Albeck Lab (UC Davis), where she worked closely with Alexander Davies on cancer signaling.  She has also worked on projects in veterinary genetics, examining feline coat color patterns and the Fed d1 allergen.
Kimberly Beatty prepared a last-minute halloween costume, celebrating the VIP tag technology.  Finley let her borrow the reporter chemistry for the day.
Kimberly Beatty and Michael Pluth (UO) co-organized the first-ever Oregon Translational Chemical Biology (OCTB) symposium at OHSU on October 30.  Over 150 people attended this event, which was open to OHSU and UO.  The event was designed to bring together chemical tool "makers" and tool "users".  A day of great talks was followed by a poster session and reception.  Speakers included Darren Johnson, Carsten Schultz, Brian Druker, Gordon Mills, Summer Gibbs, Francis Valiyaveetil, and others.
Julia Doh and Kimberly Beatty attended ProbeFest 2018 at Janelia Research Campus.  This meeting was organized by Luke Lavis, Martin Schnerman, and Elizabeth New.  Kimberly gave a talk on the VIP tags ("A new technology for tracking cellular proteins at high resolution") and chaired a session ("Session 4: Click It").  Julia presented a poster on her recent CLEM work. 
Julia provided the photo of the Janelia lake and the following summary of the meeting, "At Janelia I loved how much artwork was displayed throughout the entire campus. It made me want to get some of my research professionally printed. Probefest was the best conference I had ever attended. The small size and organization made it very easy to befriend other researchers and approach professors. The talks were all very well done, however the final day of talks was my favorite, highlighting new discoveries with some very complex imaging. My favorite talks from Janelia were given by Erik Jorgensen, Kai Johnsson, Daniel Choquet, Michael VanNieuwenhze and Josh Vaughan."
Julia Doh and Kimberly Beatty attended the WMIC meeting in Seattle, Washington.  Kimberly gave a talk and Julia presented a poster.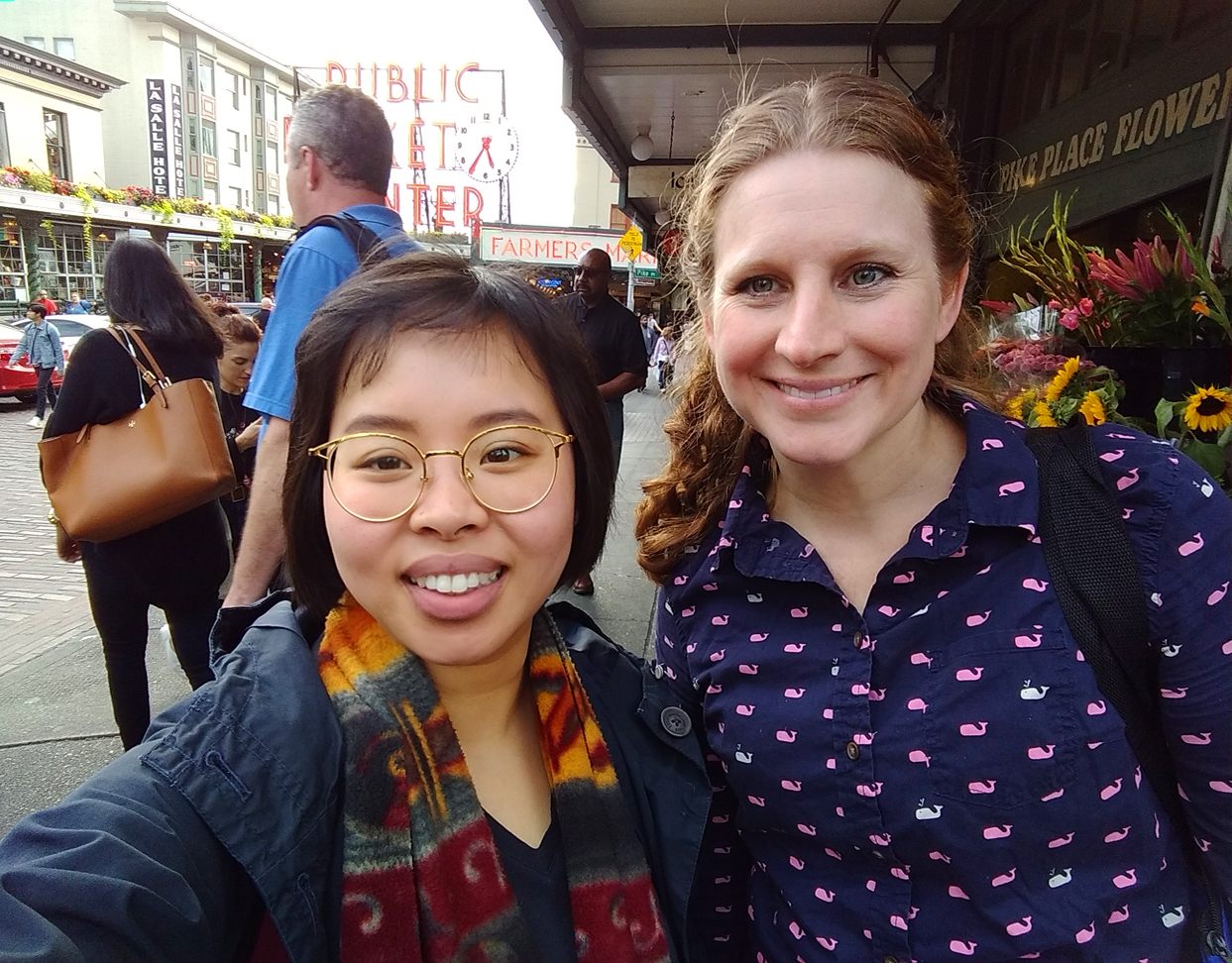 Julia provided this comment about the meeting: "At WMIC one of the things I enjoyed the most about the conference was meeting so many research groups from different countries at the poster session. My poster was assigned next to Japanese graduate students at RIKEN who were validating probes for clinical use in MRI. My favorite research presented was the acoustic/MRI reporter genes from Mikhail Shapiro's lab. I saw his student speak during one of the sessions and Dr. Shapiro gave the Roger Tsien Memorial Lecture at the end of the conference." 
Congratulations to Jon White!  Jon has joined the faculty at Longwood University as an assistant professor of chemistry and biochemistry.  He was a postdoc in the Beatty lab from 2015-2017 and completed his PhD at University of Oregon.  Good luck Jon!
Dr. Beatty volunteered on June 24 at a "STEM Like a Girl" workshop in Portland, Oregon.  The program was organized by STEM Like a Girl (http://stemlikeagirl.org/), and was offered to 3rd to 6th grade girls and their parents.  Dr. Beatty helped the girls make fizzy flower bath bombs, which used acid-base chemistry.  They also had the chance to make an art robot, a really fun challenge that involved a lot of trial and error.  The girls were enthusiastic to learn about opportunities to become scientists, and the event was a lot of fun! 
Dr. Beatty was featured on the STEM Like a Girl blog.
Dr. Beatty presented a seminar at UC Santa Barbara on January 31.  Prof. Norbert Reich hosted her seminar through the Biomolecular Science and Engineering program.  Dr. Beatty was delighted to be back on the UCSB campus.  She did her undergraduate degree at UCSB and completed a research project under the mentorship of Prof. Alison Butler, bio-inorganic chemist.  It was a wondeful place to launch a research career- top-notch research, great teaching and mentoring, talented graduate students, and a gorgeous location. 
Here is a picture of Dr. Beatty in the Butler lab taken in 2018 (left)--- compare to her picture from ~2002 (right).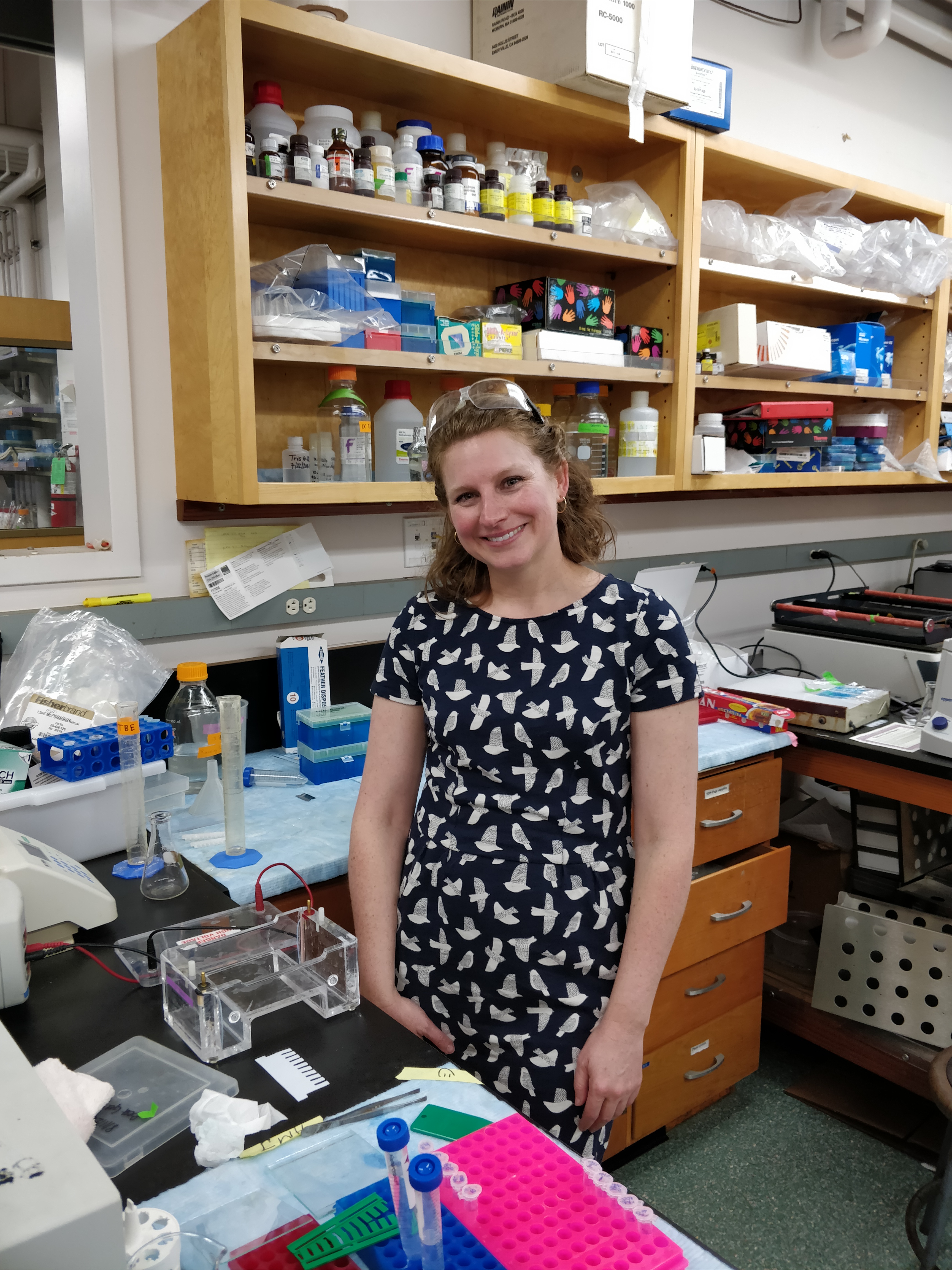 The first 2017 Chemical Biology and Physiology Conference was held at OHSU from December 10 to 13.  Michael Cohen, Tom Scanlan, and Carsten Schultz organized the scientific program, which featured a series of great talks and a poster session.  Keynote talks were given by Craig Crews, Alanna Schepartz, Dirk Trauner, and Kevan Shokat.  Dr. Beatty presented a seminar titled "A new technology for tracking cellular proteins at high resolution" in "Session 5: Optical & Imaging Tools".  Other talks in Session 5 were given by Jin Zhang (UCSD), James Frank, and Jennifer Prescher (UC Irvine).  Julia Doh presented a poster.  The 2018 meeting will be held in Germany, with plans to have the 2019 meeting return to OHSU.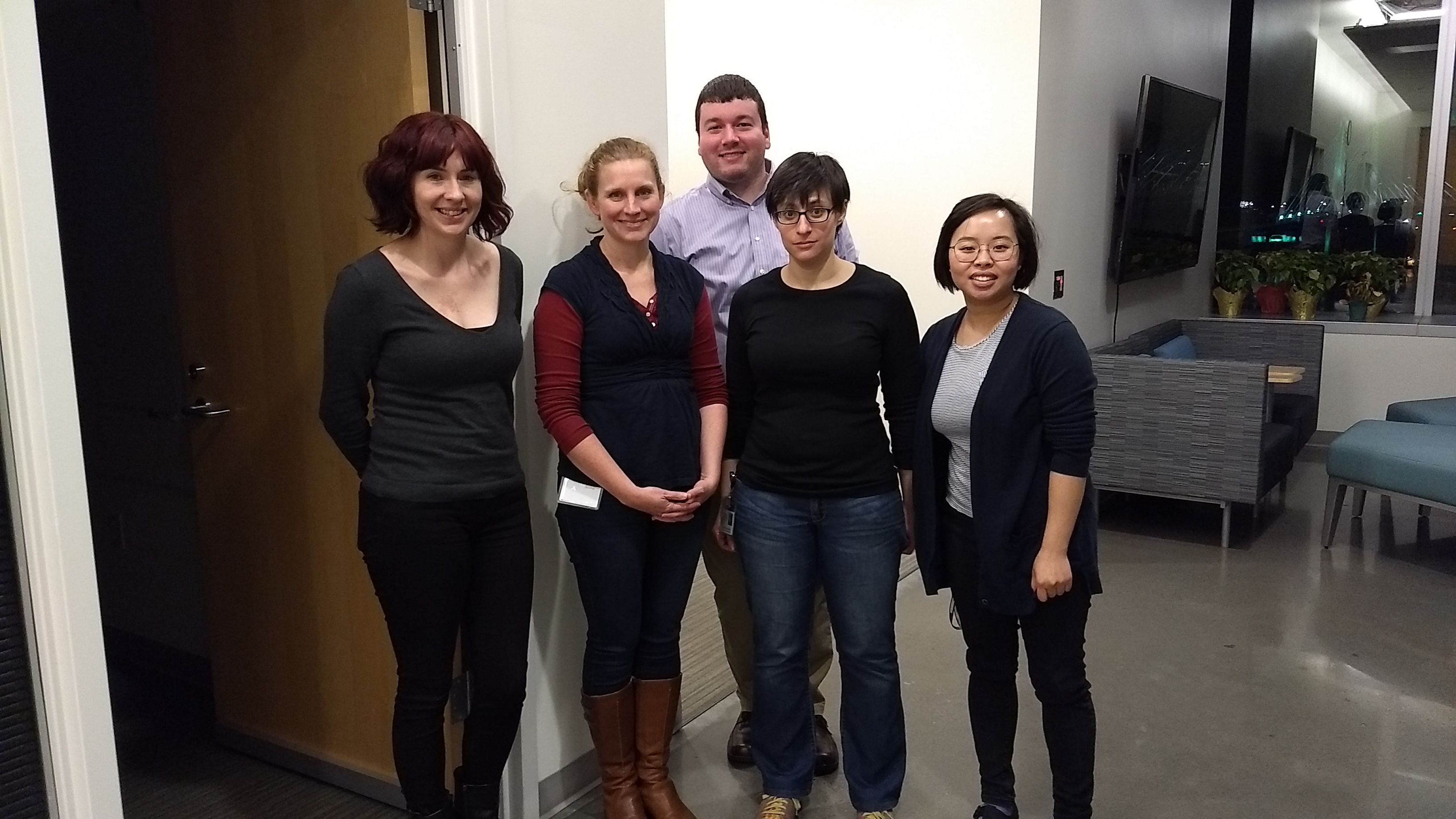 The Beatty lab gathered in October 2017 for a cheese tasting and celebration honoring Dr. Sam Levine and her success during her postdoc at OHSU.  The favorite cheese was an aged gouda, although the Cypress Grove Humboldt Fog was really delicious too!  Congratulations Sam on finishing up!
Dr. James Korkola and Dr. Kimberly Beatty are honored to receive a research grant from the OHSU Women's Circle of Giving.  This generous support will enable Jim and Kimberly to use a new technology to investigate drug resistance mechanisms in HER2+ breast cancers. The technology will allow them to tag and track the locations and interactions of breast cancer receptors in cancer cells.  A press release for this award can be found here:
https://news.ohsu.edu/2017/08/16/women-can-die-if-doctors-treat-them-like-men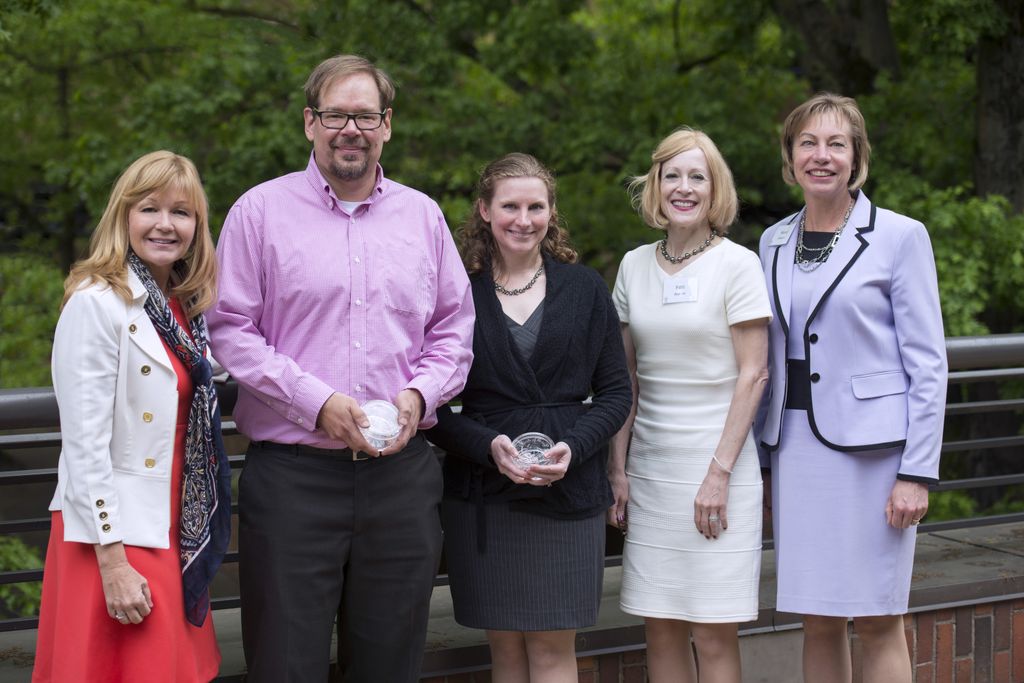 (From left to right) Circle of Giving Co-Chair Teri Oelrich, James Korkola, Ph.D., Kimberly Beatty, Ph.D., Circle of Giving Co-Chair Patti Warner, and Renee Edwards, M.D., M.B.A., OHSU Center for Women's Health co-director. (OHSU)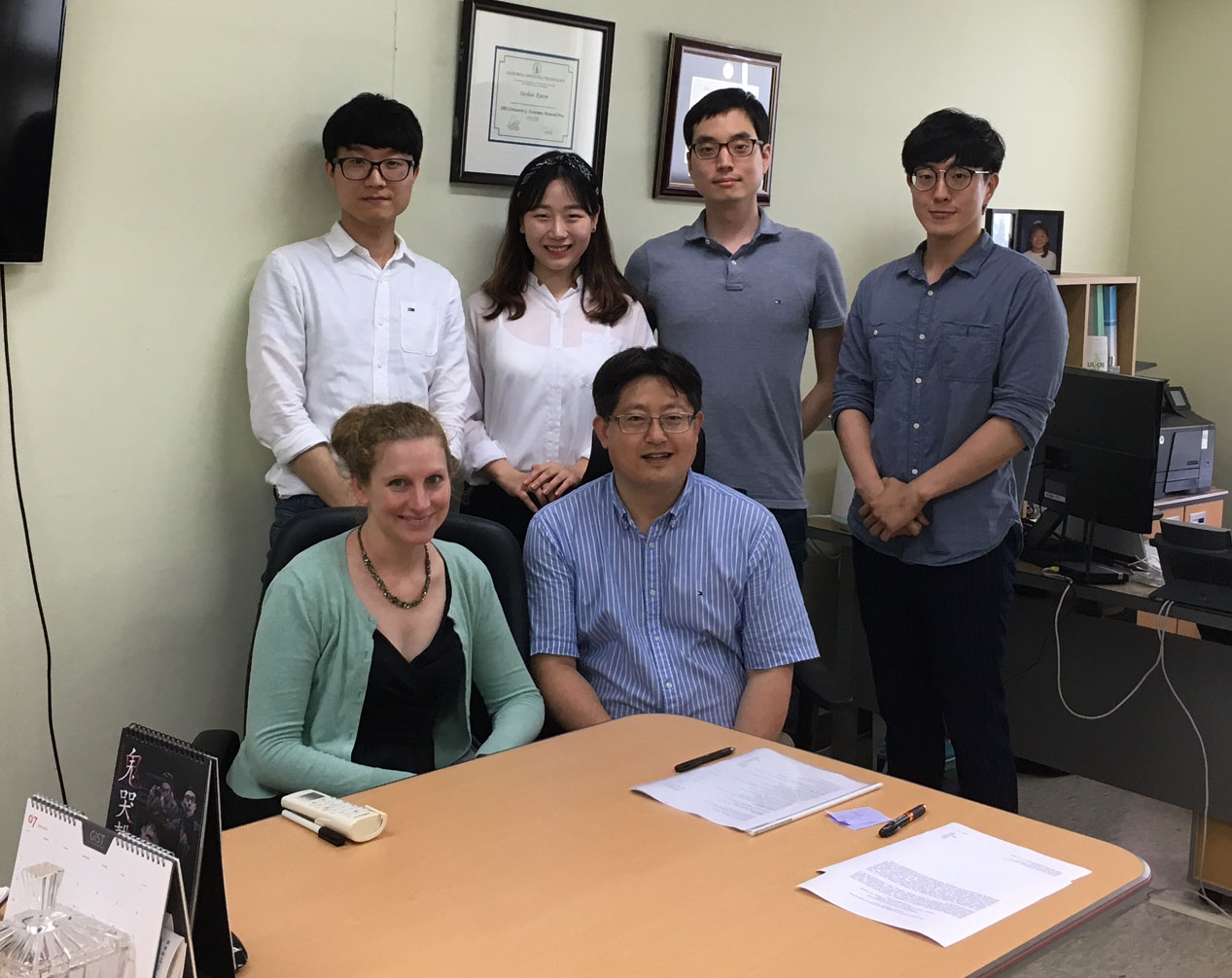 Dr. Beatty recently traveled to South Korea.  Dr. Inchan Kwon, Dean of Sciences at the Gwangju Institute of Science and Technology (GIST), invited her to present her research on chemical tools for studying Mycobacterium tuberculosis.  Dr. Beatty enjoyed catching up with Dr. Kwon- they both completed their doctoral research with Dr. David Tirrell at Caltech.
Dr. Beatty attended the Bioorganic GRC in New Hampshire.  She was invited to present a short talk on the new VIP tags project.  The program was excellent, in large part because of the amazing community of chemists in attendance.